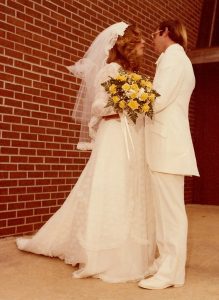 Happy Anniversary!
32 years ago today, my husband and I were married. It doesn't seem that long ago…I remember it well.
My 11 p.m. curfew was still in effect the night before the wedding; I was young and still living at home with my parents. We had out-of-town relatives staying with us, so my maid-of-honor and I slept on the floor–a backache ensued. Morning came and it seemed I had plenty of time to pick up the cake and get my fabulous do, but how time flew! The wedding was to begin at 3:00. Everyone was at the church by 2:30 except me and my maid-of-honor. She did our makeup at home and had to have one last spritz of hair spray because of windy conditions. Being the klutz that I am, I smeared her makeup and almost blinded her with the hairspray. Before the mascara redo, we were already late. Because the wedding would not start without the bride, everyone patiently waited as I shimmied into my dress in record time and took my place in the back of the line behind my wedding party.
Did you ever wonder why a bride wears a veil? There are many explanations such as hiding the bride from evil spirits or hiding her face from the groom–in an arranged marriage, the groom gets pot luck when he lifts that veil. In my case, the answer to the veil question was answered at the first sniffle from my dad as we waited to make our entrance. My inner raccoon came out to play as my mascara slid down my face. If my dad hadn't started the mascara smudging marathon, hearing my groom serenade me during the ceremony would have surely started the bawl rolling.
It seemed the rest of the afternoon would go smoothly until I remembered I had forgotten my camera. I wanted to take pictures on our honeymoon. This was the time before cellphones or disposable cameras. My aunt saved the day by meeting us at a designated location to make the camera hand-off, but not before my husband almost ran a red light in his tricked-out Chevy Nova. I was hurled into the rice-littered floorboard–I said his car was tricked-out, I didn't say it had seatbelts.
We made it to Myrtle Beach in one piece and all was well until my honey bun had the great idea of going deep-sea fishing. I couldn't swim and I never considered stepping foot on a boat. Not wanting to start married life on the wrong foot by being a party pooper, I gave it a shot. Thank God it was a half-day trip! I knew it was a bad sign when the boat crew placed buckets at the end of every seat in the cabin. The milk and donuts I had for breakfast pitched and rolled right along with the boat as bad weather approached. If I hadn't been so green when we finally made it back to shore, I would have kissed the ground. Vows were said again that week. I vowed to never again step foot on a boat or eat donuts and milk for breakfast!
Yes, I remember it well. Happy Anniversary to my husband of 32 years. Thanks for not being appalled by the raccoon under the veil and for sticking around through the ups and downs. I Love You the Mostest!!!
Bonnie Lynne