Publishing on Kindle Vella
Are you interested in publishing to Kindle Vella? This post is for you. The introduction post is Here if you want to go back and view my short explanation about Vella. 
Caution: Before publishing to KDP/Kindle Vella, you should read Rules for publishing on Amazon Kindle and Rules for publishing on Kindle Vella. Getting your knuckles whacked by a ruler-wielding nun can be painful, but not as painful as having your words in rule-breaking purgatory! Don't get your account suspended. Follow the KDP guidelines!
Here is a little introduction video to Kindle Vella:
Step 1
The video didn't scare you away, so I assume you want to push forward. The first step is to Sign Up for a KDP (Kindle Direct Publishing) account if you haven't previously published with KDP. Amazon isn't psychic (we hope); they have to know where to send your royalty payments and IRS info. (I salute you if you earn enough royalties for the government to take 37%!) If you already have an account, Sign In.
Required Account and Tax Info First-Timers

Step 2
After signing up/in, this page is where you decide what you want to publish. This post is about Kindle Vella, so tap the Start a Story button in the Kindle Vella box.
FYI-The Reports tab will take you to the reports page. Click on your Kindle Vella Dashboard to see stats on royalties earned, total episodes read, episode thumbs up, story follows, story reviews, and stats on individual episodes.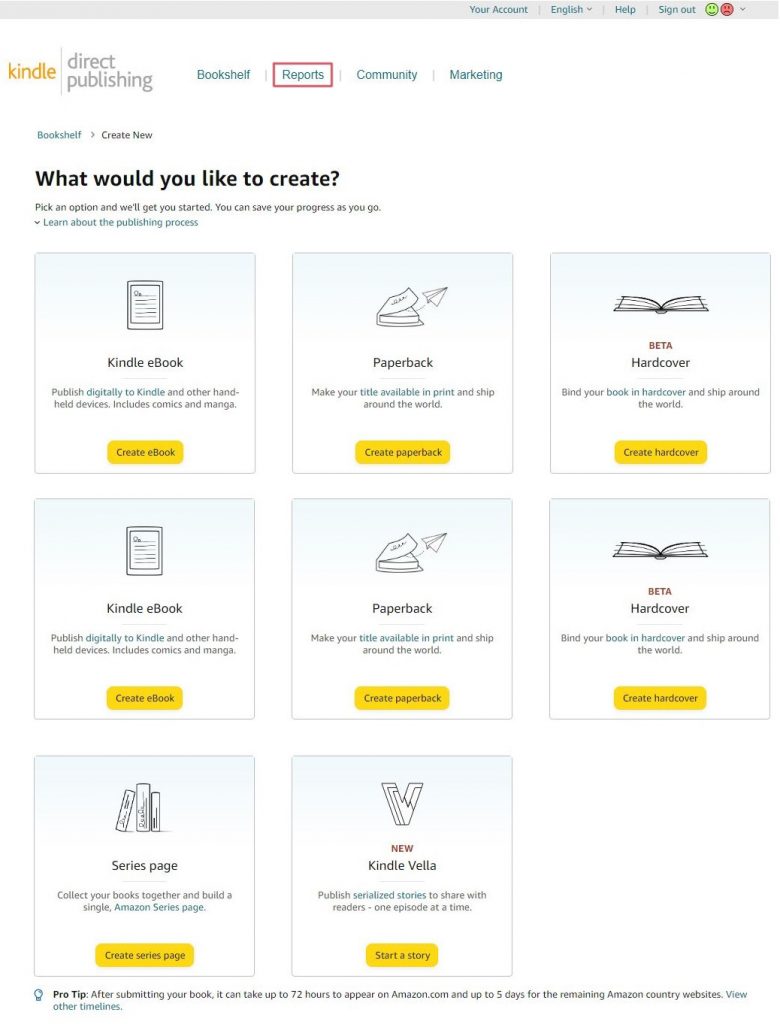 Step 3
Start a Story will take you to Your Kindle Library, where you will again hit  Start a Story :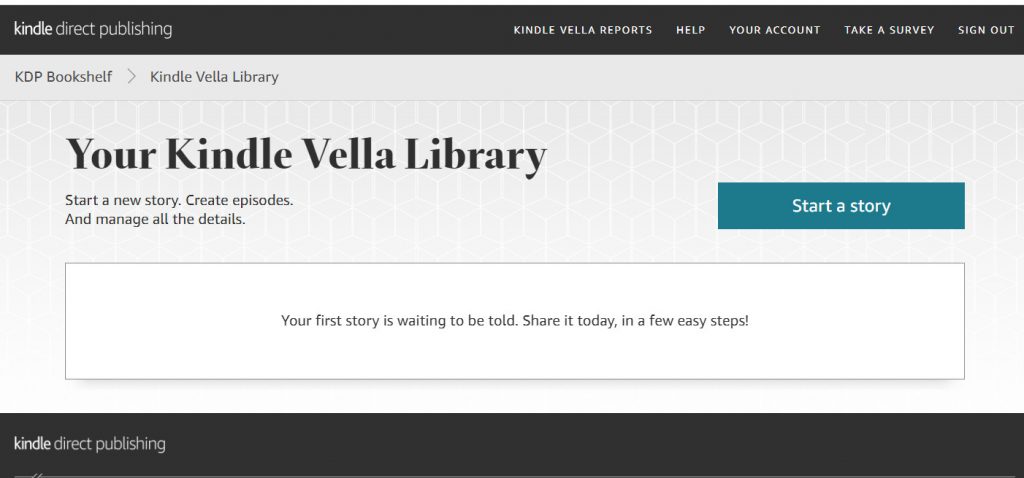 On the next page, you'll enter:
Story Title

Author Name (can be a pen name)

additional authors (if there are any)

Story Description (Blurb)

Story Image (a 1600×1600 pixel jpeg image with no text /title)

Categories ( you get a choice of two from a list)

Story Tags (you fill in your choice of five tags, such as #Romance, #Horror, #Fantasy, etc. This helps readers find a story in their preferred genre.)
*You will be issued a unique, permanent ID number for your story.
*My advice is to make one of the story tags your author name if you intend to publish multiple stories. Your name tag will take the reader to a complete listing of all your Vella stories.
*Be careful with your Categories and Story Tags! Amazon has suspended accounts for having what they feel is misleading information about published work on their platform.
At this point, you can save this info as a draft or Publish and start your first Episode.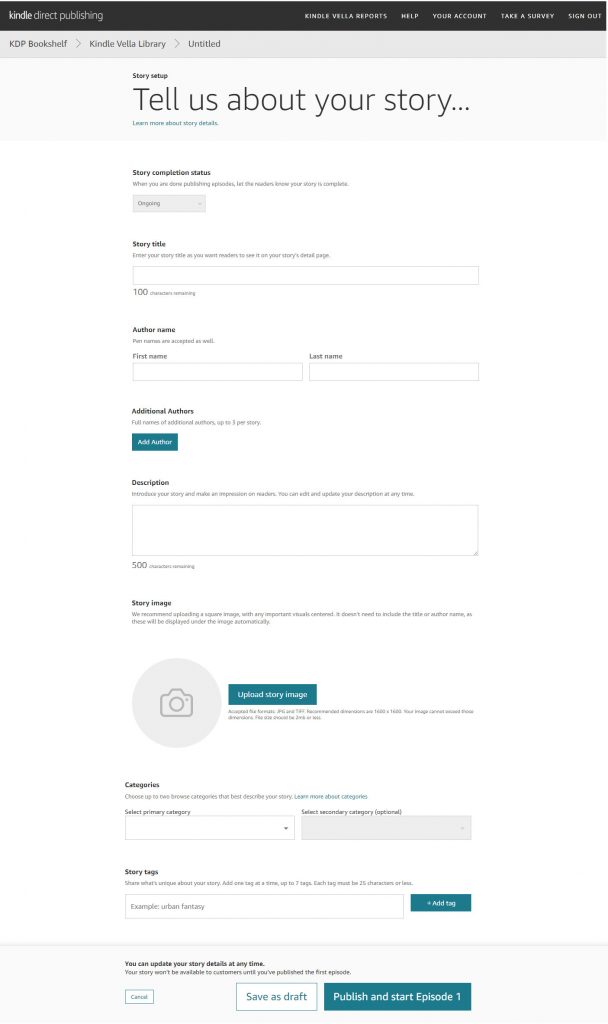 Step 4
Enter Your First Episode Text
You can import a DOC or DOCX file or write your episode directly in the editor box. Content must be 600-5,000 words. (The text box only allows for basic formatting like bold, italics, and underline. No images, tables, bullet points, etc.). Vella gives you the opportunity to review your episode on a simulated reader before publishing so you can fix mistakes. After you hit publish, the episode will be reviewed by Amazon before it goes live (they say it could take up to 72 hours, but it's usually much faster). You are permitted to revise an episode after it has gone live, but this puts the episode back into the review process for Amazon approval. Amazon's Publishing an Episode Info.
*My observation is readers like to see a consistent word count from episode to episode, especially when paying tokens. It's a mind game, but readers don't like seeing the number of tokens increase on subsequent episodes (tokens paid depend on the number of words written—10 tokens for 1000 words, 20 tokens for 2000 words, and so on).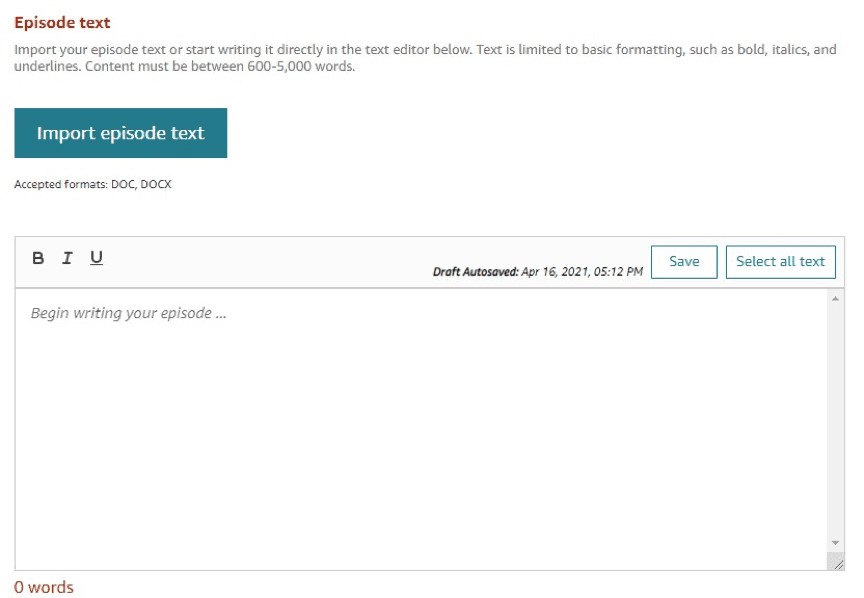 Author Notes
It's not a must, but Vella allows you to add an Author Note at the end of every episode.
(Only plain text is allowed in this box. No links, HTML, or images).
Use it for:
Engaging with your readers

Saying a few words about the episode

Teasing the next episode

Commenting about your characters

A Call to Action (a thumbs up, following the story, or giving the story a review. Be careful not to overdo the call to action—it may turn the reader away).
Polls
Polls are also an optional feature. They allow you to survey your readers at the end of each episode. Feedback is the objective here. Ask the readers a question, give them two answer options, then choose a date for the poll to close.
Tokens & Royalties
Tokens are purchased in bundles (see below). The larger the bundle, the less the reader is charged. This also means the author makes a little less per word in royalties on the larger bundles. 
According to Amazon, authors make a 50% revenue share on Kindle Vella.
Here is the breakdown of Author Royalties per Token Bundle for 5,000 words published:
Token bundle/Price                Author Royalties
200/$1.99                                   .249¢
525/$4.99                                  .238¢
1100/$9.99                                .227¢
1700/$14.99                              .220¢
*Authors are eligible for bonuses based on customer activity such as redemption of free and paid Tokens, Faves, and Follows, and the total number of Kindle Vella stories that qualify to receive a bonus every month. Read more about Payment and Bonuses.
Things to Know
At the beginning of this post, I urged you to read Amazon's rules for publishing on their platform. Here are some important rules for publishing to Kindle Vella:
You Can:
Use up to 5,000 words of content you have previously published as a bridge to the new story you are starting on Vella.

Publish a completed Vella story or group of episodes (a minimum of 10 episodes) as a book elsewhere as long as the last Vella episode has been available to readers for at least 30 days.

Share a sample of your Vella story (up to 5,000 words) for author interviews to promote your story.

Unpublish your Vella story. Request Amazon to remove your story and it will be unpublished 60 days after the request. If you decide to republish the story on Vella, it has to be done one episode at a time.
You Can't:
Publish content previously published anywhere (including Kindle books) or content that is free in the public domain.

Publish individual Vella episodes as standalone content outside of the Kindle Vella store.
*I again urge you to read Kindle's rules for publishing.
Check out my first Vella story, Abernathy Apocalypse.
This was a long post, but I hope I've made your Publishing-to-Vella experience a little less confusing. Happy Publishing!