Pickled Pig Lips
As I strolled through the aisles of our new Sam's Club (we had recently moved to Louisiana) with my jumbo-sized cart, I made some observations. First and foremost, I wasn't aware that pig lips were a marketed product for human consumption. It boggled my mind further to know that someone would prefer this as a bulk item. Does pickled anything go bad if not eaten in a timely manner?
A few rows over, I came upon a 50-pound sack of rice and a 25-pound sack of red beans. Being a transplanted Cajunite, I can appreciate the importance of these staple items, but unless you're a restauranteur or a doomsday prepper, I'm not sure what you would do with this amount of red beans and rice. If you throw in some pickled pig lips, I guess you could have a nice block party.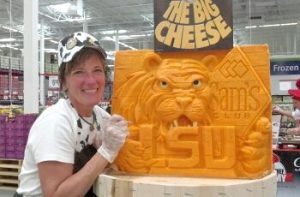 In the middle of the store, I found a huge block of cheddar cheese, sculpted into the LSU mascot. We have some pretty loyal fans here who would consider it their duty to consume every last chunk of this cheddar. Of course, I'm sure that even the most diehard fan could find a bulk buy of laxatives worthy of the challenge. While I'm on the subject of gastronomical distress, let me note that Sam's has enough Preparation H in a single buy to soothe the hemorrhoids of a herd of elephants.
Lastly, for all of you MacGyver wannabes out there, you can buy 2000 paper clips, 240 yards of duct tape, and 5,400 pieces of gum for all your disaster-averting needs.